Switch to code view to edit website name

Partnering with you to achieve your remodeling dreams.
For your needs, your comfort, your home.
Project went very well. Alan was very professional, quiet, clean and well worth every penny. Worked with us on initial design and subsequent changes. Price was in line with other quotes. Good job. Will hire him again.
Mr & Mrs Z., Plymouth
We contracted Almar Carpentry (Alan) for built in cabinets in our family room. This included the design and construction from our rough ideas. He did a great job. Very professional. Arrived on time, did the work per plan and communicated to us through out. I would have no hesitation in recommending Alan to others!
Mr & Mrs. P., South Lyon
Alan came out promptly to provide a quote and he completed the work within a couple of days. Alan's work is solid and we will have him back to do more work in our home.
Mrs. S., West Bloomfield
Alan removed a built-in entertainment center and constructed a new custom-made unit based on my specs. Alan was very flexible and accommodating and provided good ideas for the new center. Very clean, professional and prompt. Great attention to detail especially the trim. Would strongly recommend to others.
Mr. C., West Bloomfield
I've used Almar for several remodeling projects including a kitchen remodel. The latest project was building a closet, new cabinets in laundry room, and replacement of the flooring throughout the first floor of home. All work was done promptly, on schedule, and high quality. Pricing is very fair and invoicing is clear. Everything went smoothly. I would not hesitate to use this company again.
M & M. K., Northville
Bathroom Remodeling. Install new shower, tile floor, vanity, toilet, etc.
This is the second time I used this company. Both experiences were positive and work was completed on time and according to estimates.
Mr. L., Northville
Remodel Fireplace


Almar Carpentry was hired to: -Cover red brick fireplace with wainscoting and build mantle -Install back hall bead board and complete closet from Kraft Maid Cabinetry -Install cabinet/sink/counter in laundry room -Miscellaneous Carpentry work.
Alan is a perfectionist - a true artist. His work product and ethics are impeccable. He is punctual, responsive, and professional, and produces an exceptional product. We highly recommend him.
Mrs. R., Plymouth
Almar Carpentry has finished my basement and remodeled two of my bathrooms. Al is very professional and does a thorough and complete job. He is very trustworthy and reliable. If there is ever any problem, he will come back and fix it. I plan on using him again in the future for my kitchen.
Mr. & Mrs. H., Plymouth
Small Project


This was a very small job - installation of a set of three thick, large shelves with a visible bracing that wrapped around an inside corner. Shelves purchased from a well-known home accessories and furniture website/catalog. Extremely happy with Alan and with his work. I had been having difficulty getting anyone to respond to inquiries, because it was such a small amount of work. Alan responded the next day, with no issues with the fact that it was a small job. I will definitely work with Alan again
Mrs. S. Milford
Basement Remodel


Alan, I wanted to let you know how happy we are with our new basement. It has been six months since it's completion and everyone in the family loves it. I wanted to take this opportunity to thank you for a job well done. From start to finish, your attention to detail and professionalism made for a very positive experience. Everyone always comments on how nice it turned out. If you ever need a reference, do not hesitate to let me know. Thanks again for your efforts.
Mr. C., Livonia
Our bathroom remodel consisted of the complete removal of an old vanity and reinstallation of a new bathroom vanity, with plumbing, lighting fixtures installed. Additional work included new crown molding installed in the bathroom and a new wood door with casing. Timely and accurate work in all aspects of the job. Alan has excellent craftsmanship and the ability to provide good solutions to changes or unexpected problems. There was excellent follow-up to ensure satisfaction. Alan Eskovitz and Almar Carpentry can be counted on for getting the job done right, on time and for a good price. We would go to no one else when it comes to inside the home carpentry work.
Mr. & Mrs. D., Livonia
Replace Bath Cabinet Doors
and Drawer Fronts.


Perfect from start to finish, great to work with. Will use for any future work
Mr. & Mrs. S. Novi
Built a Fireplace Surround


I'm very happy with the way it turned out. Alan listened to suggestions and he is a skilled carpenter. Couldn't be happier.
Mrs. O. Taylor
Complete removal of old and installation of new Bathroom Vanity with Plumbing and Lighting Fixtures installed. A new Door with casing and new Crown Molding was installed. Timely and accurate work in all aspects of the job. Excellent craftsmanship and ability to provide good solutions to changes on unexpected problem. Would go to no one else when it comes to inside the home carpentry work.
Mr. & Mrs. D. Livonia
We decided we wanted to finish our basement. We met with three contractors and the minute we met Alan, we knew he was the one we wanted to work with. we sat down and told him exactly what we wanted. He had some great suggestions for making it better. He got started mid-April and was done in June. He event met our deadline, that doesn't happen very often. Whenever we wanted something changed; he worked to meet our expectations. All of our upgrades were very reasonably priced. He worked within our budget. Alan's magnificent carpentry has definitely created a living area that we will enjoy for many years to come. Our oak bar and wainscoting is the talk of everyone who comes to visit. Thank You Alan for working with us. We love our home even more now!
Mr. & Mrs. N. Northville
Removed existing banister, spindles, and newel posts; and installed custom handrail and newel posts with custom fitted glass panels. The job looks fantastic and Alan kept us appraised during the whole project. We felt so comfortable with Alan that he worked a number of days in our home while we were both at work. We are already having him provide his quote to do our kitchen backsplash, and we feel great that we have discovered a fantastic contractor that we can rely on and know the job will be done professionally and timely.
Mr. & Mrs. C. Livonia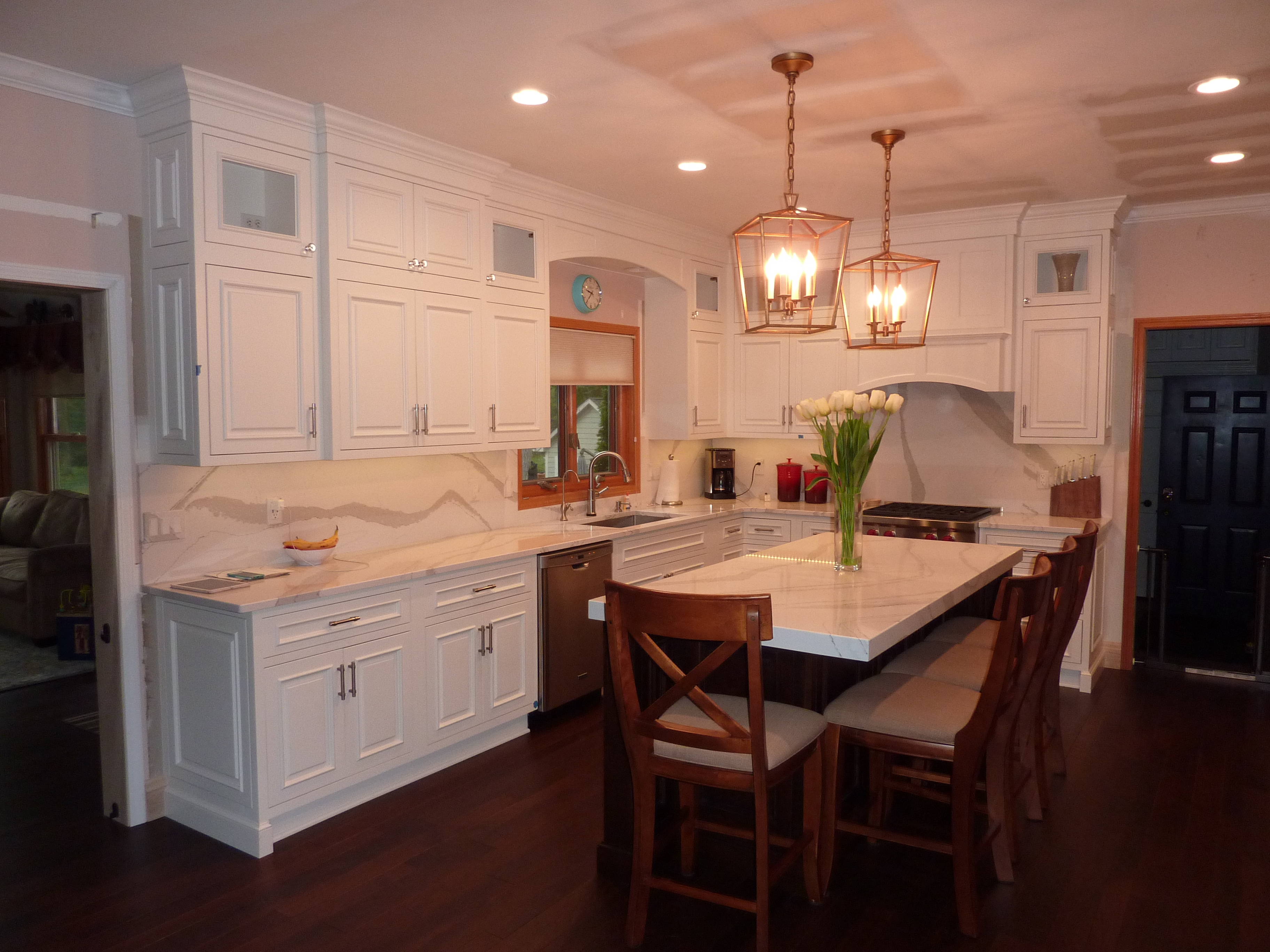 Top